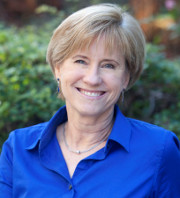 Kristiana Raube is executive director of the Institute for Business & Social Impact. She is also director of both the Graduate Program in Health Management and the International Business Development Program at Berkeley-Haas, as well as an adjunct professor.
Raube has spent her career teaching and researching health and poverty issues, and her work has taken her from the housing projects of Chicago to villages across Africa and Asia. In her years at Berkeley-Haas, Raube has been a key architect of programs that combine the study of business with the broader goals of healthcare access, poverty reduction, and social justice. 
In 1999, the Haas School of Business recruited Raube to revitalize its Graduate Program In Health Management. While teaching and overseeing the health care program, Raube has carried out consulting and research projects in over 70 countries across Africa, Asia, and Latin America.