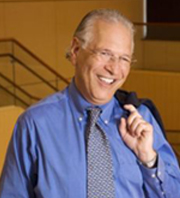 Dr. Steven G. Ullmann is Professor and Chair, Department of Health Sector Management and Policy and Director of the Center for Health Sector Management and Policy at the University of Miami School of Business Administration. Dr. Ullmann holds secondary appointments in the Department of Economics as well as in the Departments of Epidemiology & Public Health and Family Medicine & Community Health in the University of Miami Miller School of Medicine, specializing in the areas of health care management and health care economics.
Dr. Ullmann has served as Vice Provost for Faculty Affairs and University Administration, Dean of the Graduate School, and Director of Academic Programs in Health Administration. Prior to the University of Miami, he was a research associate with two consulting firms, Health Manpower Policy Studies Group and Policy Analysis, Incorporated.
He is the author of over 35 monographs, book chapters, refereed journal articles, commentaries, invited articles, and abstracts in such journals as Inquiry, Applied Economics, and the New England Journal of Medicine. He has also been the recipient of over 25 awards for excellence in teaching. Most recently, he received the James W. McLamore Outstanding Service Award.
Dr. Ullmann has served on governing boards and ethics boards of a number of health care providers and as a consultant to the health care industry. Dr. Ullmann has worked globally in the areas of privatization and implementation of health care management structures in such countries as Argentina, Brazil and Uruguay. With the recent issues of healthcare reform, Dr. Ullmann's expertise has been sought after by various local, national and global media sources including: the Miami Herald, the Sun Sentinel, PBS Nightly Business Reports, CBS, Fox Business News and CNN.
Dr. Ullmann holds a Bachelor's Degree in Economics with Distinction from the University of California, Berkeley, and his Master's and Ph.D. degrees in Economics from the University of Michigan, Ann Arbor. He has received training and certification in Bioethics and Advanced Bioethics from the Kennedy Institute of Ethics at Georgetown University.